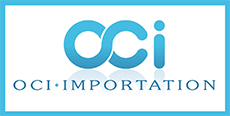 |
|
My Account

Some services are not accessible on a smartphone.

|
IMPORTANT:
For the 2023 summer season (June 19 through September 4, inclusive), please note that we are open Monday through Thursday from 9:00 a.m. to 4:00 p.m. and Friday from 9:00 a.m. to 1:00 p.m. In addition, we will be closed for summer vacation from July 23 through August 5, inclusive.
Welcome on our website OCI-Importation.
We are pround to present you our new website, that we wish will give you a pleasant and easy navigation. The available inventory is indicate with each product; if the quantity available is ''0'', the product is unavalable for ordering online because of the supply chain delay being too long.
For the Institutionnal Customers, please do not register as a ''new customer''; we invite you to clik on the link ''Institutionnal Customers'' in the Menu Bar upside and fill out the form. We will respond as quick as possible and send you a password to login as Institutionnal Customer.
We wish you a wonderful experience on our website.